San Francisco Marathon + Temp Taxi Stands
Sunday, July 24: The 45th annual San Francisco Marathon will begin from The Embarcadero and Mission Street at 5:30 a.m., with staggered starts from 5:30 a.m. until 6:30 a.m. The race route will loop north along The Embarcadero, through Fisherman's Wharf and the Marina into the Presidio, and south through the outer Richmond District on 27th Avenue. The race will continue through Golden Gate Park, and then through the Haight, crossing Market Street at Guerrero, and then to continue through the Mission District, primarily on 16th Street into Mission Bay. The route will go under I-280 at Mariposa Street, then South on Indiana to 22nd Street, back along 3rd Street to Terry Francois, and then back to The Embarcadero. Attendance of up to 20,000 runners is expected. For more event details, visit https://www.thesfmarathon.com/.
This will be a large citywide running event. Traffic in the area will be affected as soon as the race begins. The following are travel options to cross the marathon route:
East/West Travel
Richmond District: all streets with exceptions of Lake Street and El Camino de Mar
Dogpatch: 18th and 20th Street
North/South Travel
Great Highway (North of Lincoln Avenue)
19th Avenue
Steiner Street
Fillmore Street
Valencia Street
Mission Street
South Van Ness Avenue
Folsom Street (from 15th to 17 streets)
Bryan Street
Potrero Avenue
Kansas Street
De Haro Street
Travelers should expect transit and travel delays due to street closures during the race and crowds of racers and spectators both before and after the race. The race will begin at 5:30 a.m. and conclude in the early afternoon.
Various additional street closures will be required between 5 a.m. and 2:45 p.m. throughout the race route including in the Presidio and Golden Gate Park. Additional detail of race day traffic advisory with suggested detours can be found at http://www.thesfmarathon.com/race-weekend/traffic-advisory/.
Taxi Service: Between 12:01 a.m. and 7 p.m. Sunday, there will be temporary taxi stands for the event at the following locations:
Clay Street between Drumm and Davis streets
North side of Drumm Street (Six Spots Only)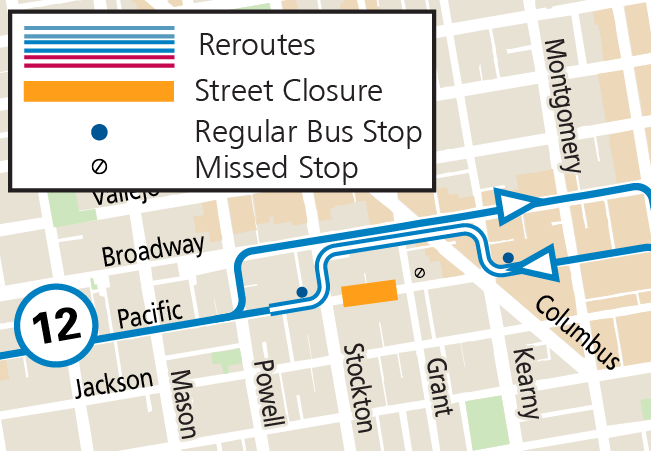 Ping Yuen Peaceful Gardens Block Party
Saturday, July 23: The 2nd Annual Ping Yuen Peaceful Gardens Block Party will take place in Chinatown on Pacific Avenue between Grant Avenue and Stockton Street. Event hours are from 11 a.m. to 3 p.m.

From 7 a.m. to 6 p.m. Saturday, Pacific Avenue will be closed between Grant Avenue and Stockton Street to facilitate the event.